Photographer in Montreal
About Pri Gomes
Based in Montreal, Quebec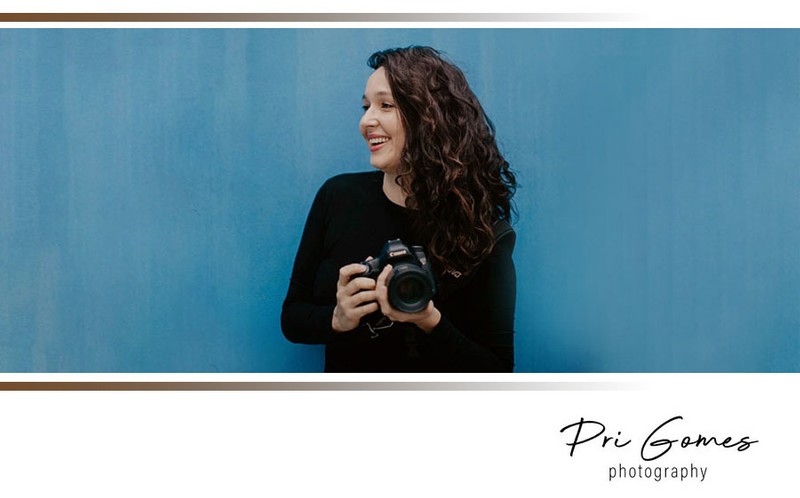 How I started in photography
Like many photographers, I have a very strong photographic inspiration in my family. With so many visual references and with a growing love I decided to become a photographer.
My background is in Advertising, social communication is part of my life and mine helped a lot to understand the current world. A after graduation I took a postgraduate degree in Photography and Image. It was at Lage Park where I found the real reason for photography in my life. There I studied expanded photography, creating photographic projects and dreaded contemporary art.
And finally wedding photography
In 2010 I photographed my first wedding, which of course was a couple of uncles and then had some referrals to close people and more friends.
So it happened to my photography company, it came at a time when I had to choose between my marketing profession or venture into this unfamiliar world. I simply went after what made me dream.
I am a wedding photographer in Montreal and love to photograph unique moments in people's lives.
Photographing weddings makes me believe that when the flowers wither, the cake is cut and the party is over and all that remains is love.
"My eyes are on timeless photographs and emotional scenes, I am always focused on the couple and their joy in celebrating their marriage."
I give the couple a real photo, without excess effects and filters that make the photo dated.
With over 320 weddings photographed, I was published in the largest magazines, newspapers and wedding websites in Brazil. In the Unforgettable Weddings Magazine, Newspaper Day, in Carol Hungary's book The Timeless Guide to Brides in Style, Zankyou Website, Wedding Dresses and more.
What if you could have the most exciting photos of the best day of your life?
Come meet me, I'm a wedding photographer and I have the magical power to stop time for people. I keep the best memory of your big day together with the people you love the most.
From your grandmother's beautiful smile to a big hug to your father and other fleeting memories.
Thank you so much for having you here!